06 Oct

10 Best Must-Visit Waterfalls of Mauritius

After a few years of exploring Mauritius Island, we got to (in great detail) some of the best waterfalls the island have to offer. This is what we do best and chances are most of you enjoy a good hike. In fact, as a local, this is something I thoroughly enjoy doing (especially when you've been to all the beaches around the island and now look like a grilled lobster).

I know, now you think – "But I thought Mauritius was all about beaches and luxury resorts?!". …Well, friends, let me tell you that the paradise island is much more than what it is famous for. There are many reasons why Mauritius is known as 'heaven on Earth' – it is the ideal destination for thrill-seekers, nature lovers and anyone wanting to rediscover their sense of wonder for our planet's best islands. Mauritius got so much more to offer than Maldives or Seychelles. 

There are waterfalls (including one underwater), amazing mountains, treks and a collection of stunning natural wonders that remain virgin and unexplored. Now, what are you waiting for
The 10 best Waterfalls are:
1.Eau Bleu Waterfall
2. Chamarel Waterfall
3. Cascade Soreze
4. Cascade 500 Pieds
5. Cascade Leom
6. 7 Waterfall ( Tamarind Fall)
7. Rochester Falls
8. Alexandra falls
9. Balfour Waterfall
10 Grand River South East Waterfall
[/vc_column_text][/vc_column][/vc_row]
We have located all the waterfalls on this App with the exact location. Enjoy 
Dip in ridiculously blue water!
When it comes to natural waterfall in Mauritius; Eau Bleu (or also known as Cascade La Source) definitely takes the spotlight. Though stunning, I would not say that it is the easiest to reach but one thing's for sure – it's worth all the travel and effort as this is where you get to bask in turquoise water! I mean, where can you find blue water at a waterfall? Let's be honest – most of the time, you end up in muddy streams. The waterfall originates from the nearby river and comes out on three different levels of the terrain (although the main waterfall is of interest to most of the visitors). But hear me – all three waterfalls at Eau Bleu are equally spectacular!
To get there, you will have to travel to the village of Cluny and hike down a slippery track for about 10 minutes (depending on your fitness level). I'd recommend you to wear proper sports shoes and avoid visiting during the extreme dry season (when the pond is dry and obviously with no water in) or even during rainy season as the hike down can get challenging.
The waterfall itself sits in the middle of a vast sugarcane plantation which I personally find doubles its beauty!
An almost Amazonian-like waterfall!
Waterfalls in Mauritius have their own special magic but Chamarel Waterfall stands out from the lot – after all, it is the island's highest waterfall so you can expect it to be one of the most spectacular too! In fact, the waterfall is one of the most iconic locations to visit while on the island – it's on everyone's itinerary and it SHOULD BE on yours too!
Needless to say, it is also a waterfall that is popular among Instagrammers as well –and this, for a good reason! Trekking to the waterfall is not a difficult task, though you'll face some challenges along the way. You'll be wandering through thick tropical forests before getting to the waterfall where you get to relish on water gushing down from some good 80 metres!
If you're planning a trip to explore Chamarel Waterfall, we'd recommend you to book a tour package/excursion – that way, you can also access the viewpoint!
For locals, this waterfall holds both historical and natural significance as it showcases old volcanic formations from a few million years along with the most beautiful natural phenomenon of falling water. Bonus point is that swimming is permitted at the waterfall and it is quite accessible (in case you would like to take a dip, which we highly recommend)!
A secret waterfall hidden behind the highway
Truth is, natural wonders can be found at the most unusual places in Mauritius and yes, even behind a motorway! Of course, you'll probably need a drone to figure this out or simply check out this video to be tempted!
That being said, even locals drive along this motorway every day and have no idea of the natural gem it hides! For those residing in the surroundings, the waterfall is most commonly known as "Bassin Marmite"
A waterfall that's as high as its name says
When it gets too burning hot on the island, all you want to do is to jump into the pool! And why not refresh yourself at one of nature's most refreshing natural pools? This beauty right here sits deep down the ever-so-popular Black River Gorges National Park. 
To access Cascade 500 pieds, you will have to take up the trail at the beginning of Alexandra Falls' parking lot. As you make your way to the viewpoint area, notice the small trail on the left and from here, you will be trekking to the waterfall for a good 1 hour. 
Nothing too intense on the programme, we promise; but what we can guarantee you is the magical views you'll get to relish once on top as the waterfall overlooks the beautiful rugged waters of the South coast. 
As you sit and enjoy the lush forests of Chamouny, you'll be serenaded by the soothing sounds of the river that runs just beside you before it can find its way out of the mountain, pouring all the way down to the sea (500 feet away – hence the name).
And if you've got time to spare, we'd recommend you to make this a half-day tour along with a visit to the popular Alexandra Falls that is quite impressive as well!
Find your way to this canyon that hides twin waterfalls!
Besides luxury beach resorts, there are some stunning lodges and chalets located in the most untouched natural places of the island and one of them is L'Exil Lodge which is nestled in the heart of the indigenous Combo Forest.
In here, you get to enjoy a unique trait; a Mauritius you've never heard or seen before – away from the typical sea, sand and sun vacationers!
And as a guest at this picturesque accommodation option in the southernmost tip of the island, you also get to explore the hidden natural wonders in the surroundings as you are offered exclusive access to the Exil Canyon.
Come and jump, swim across the streams and ponds as you feel rejuvenated in nature with a lush tropical forest around you. If luck is on your side, you will get to come face to face to wild animals and learn about indigenous plant species.
The canyon itself consists of twin waterfalls – Cascade Leon and Cascade Cecile; both tend to have a moderate amount of water gushing throughout the year. The river is especially notable as it leads to the hydroelectric power station – talk about sustainability!
7 Cascades ( Tamarind Falls) 
Find your way to this canyon that hides twin waterfalls!
You said you wanted to visit at least one waterfall when in Mauritius, right? But how about 7 of them, all at once?!
With an impressive scenery on offer, the natural wonder of 7 Cascades (or also known as Tamarind Falls) is stunningly hidden deep down a valley between the region of Curepipe and Black River. In fact, it is the perfect exhilarating escape to discover and immerse in the wild side of Mauritius.
The exotic spot is ideal for nature lovers looking for some adrenaline-pumping activities as hiking and abseiling are common here. Although there are seven waterfalls in total, only three of them can be easily reached – the rest of the waterfalls can get pretty challenging as you have to climb trees or jump off into the water to reach them.
And though you can take the risk of exploring the waterfall on your own, we would suggest you opt for a knowledgeable guide who will be able to take you to the location easily. Keep in mind that you will be walking through thick vegetations so proper sport shoes are required.
Watch as water gushes down quirky rectangular flank rocks
As you explore the tranquil village of Souillac in the south of Mauritius; don't miss out on a stop at Rochester Falls – a unique waterfall that gushes down on rectangular flank rocks.
What's best, the waterfall is one you can easily reach by yourself. There is plenty of signage along the way to guide you from Surinam to Rochester Falls where you will be driving through thick and vast sugarcane plantations – the path is rather rugged and muddy but soon enough, you'll be at the parking area where your hike begins.
From there, you will be walking to the waterfall for a good 5-10 minutes where you'll be able to jump into freshwater that gushes down from 10 metres. The natural wonder is unique on its own due to the rectangular flank rocks it features.
And if you're less of an adrenaline junkie – chances are you'll be able to find a young group of locals collecting some bucks from you to jump from the waterfall and impress you!
Our tip: Start from Savanne Waterfall, via Marazine and Teracine Falls before you proceed to Rochester Falls and continue to Cécile Dam to end at Exil Waterfall.
Take up the most scenic trails to reach this waterfall
Avid trailers in Mauritius sure do know that the best routes often lead to the best waterfalls and this is the case for Alexandra Falls as this majestic drop sits right in the middle of beautiful natural landscapes. 
The wispy waterfall is best enjoyed from a viewpoint that's accessible on the way to the Ganga Talao crater lake. There are several signs along the road to guide you to the car park. 
From there, you will be able to enjoy stunning panoramas of both Alexandra Falls and Cascade 500 pieds, surrounded by terrific sights of the lush Black River Gorges National Park. As you look over to the horizon, you'll also be able to spot on unique bird species too!
Needless to say – the scenery is awe-inspiring. However, I would recommend you to come over in the early morning as locals tend to flock over to this location during the weekend, especially at lunch or tea time. A trip to Alexandra Falls is best combined with a stop to Ganga Talao and La Vallee des Couleurs Nature Park if you begin from Chamarel.
Grand River South East Waterfall
Reach this waterfall by boat
There's no way you see the best of Mauritius if you do not sign up for a trip to the ever famous Ile aux Cerfs and if luck is on your side, your organised day tour might most likely include a visit to GRSE (Grand River South East) Waterfall which is mostly only accessible by boat as you get up close to metres of gushing waters – quite the spectacle I tell you!
What sets GRSE Waterfall apart is that its mouth connects to the ocean – put it shortly, the river currents flow directly into the sea and you can see all of its beauty right from the comfort of your boat. What's more, this natural wonder is deemed as the longest river around the island!
Hiking up the waterfall is also very well possible – it is far from being a challenging trek, in fact it is more like an enjoyable walk. Although, you might sometimes have to jump from rocks to rocks. It should take only about 1 hour to complete. You can also easily make it to the top of the waterfall from the main street itself.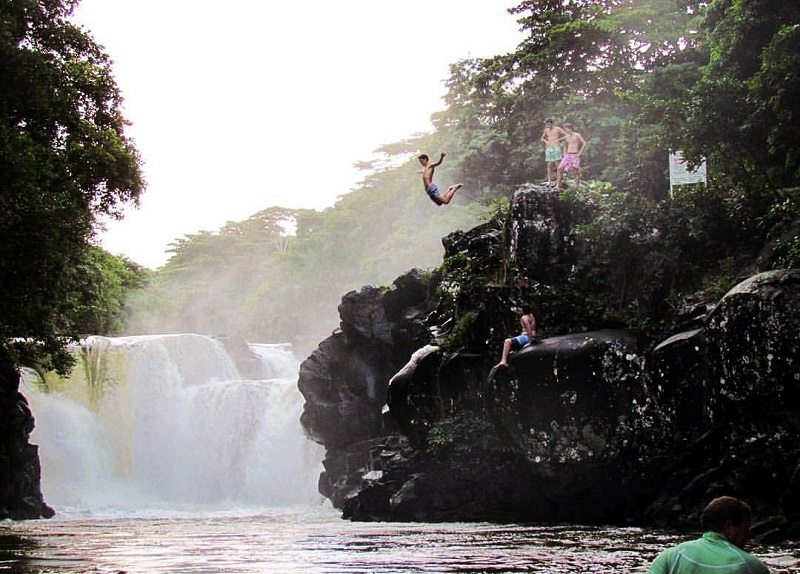 The waterfall in the middle of a town
When a local Mauritian thinks about waterfalls, the one located at Balfour definitely tops off the list – it's not only stunning but it is one that brings out plenty of childhood memories. 
To view the waterfall, you can simply enjoy it from Balfour Garden, while for those of you who are more tempted to get up close, you can trek down to the waterfall by descending the valley from Vuillemin Street in Beau Bassin.
In fact, the trail will lead you to Vuillemin Waterfall first before traversing thicker vegetations that bring you to the impressive Balfour Waterfall. However, the way to the waterfall is quite tricky and can get dangerous due to unpredictable changes in water levels and muddy terrains so we would highly recommend you to relish on it from the viewpoint at Balfour Garden where you can also enjoy a picnic and get to encounter giant tortoises – it is the perfect place for tranquil moments with your family, especially with kids as there's also a playground where they can run free!
SURPRISE! WE HAVE A BONUS WATERFALL FOR YOU!
Underwater waterfall Mauritius
Have you heard of a waterfall that is underwater?
Le Morne also offers a spectacular natural optical illusion that you can admire from the comfort of a helicopter or seaplane experience.
The fine sand being carried by the running ocean water and underwater currents make it look like there is a waterfall right in the middle of the sea, with the beautiful Le Morne Brabant standing proudly in the background. It's an amazing dramatic sight to relish on – something unusual for sure!