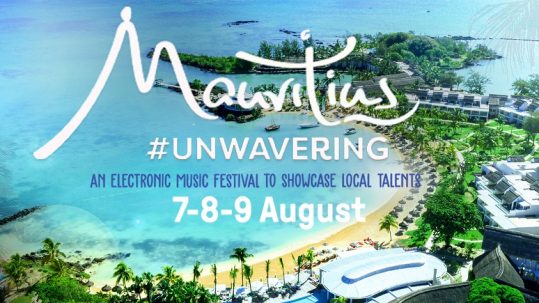 23 Jul

PURE at LUX* Grand Gaube #MauritiusUnwavering

Mauritius Unwavering is a PURE event that will be held at LUX* Grand Gaube. This 3-day Music & Beach festival will occur on the 7th, 8th, and 9th of August. For the first time in Mauritius, an entire resort is being privatised for a 3-day festival. With all what is  going on in the world right now, this upcoming event is making a resounding proclamation
Mauritius is safe!
The upcoming PURE at LUX* Grand Gaube is being organised in collaboration with Mauritius Tourism Promotion Authority.
"As part of its destination and marketing strategy, the MTPA has embarked on a joint initiative with JV Entertainment Ltd, who will host a series of cultural events to showcase local talent. This project will engage local artists who will get the opportunity to display their creativity" Arvind Bundhun Director MTPA
It is the first full-fledged Music & Beach festival that is being organised after the COVID-19 lockdown period in Mauritius. As such, proper health & security measures are being taken, in compliance with health regulations prescribed by the Tourism Authority.
"We[JV Entertainment Ltd] are now partnering officially with Mauritius Tourism as part of their new destination and marketing strategy by organising high-end events in the most beautiful resorts of the island. It helps boost their revenue through the local market and give them an international exposure with our live streaming and after movies. "Mauritius Unwavering" festival will be organised in different resorts on the same model until borders re-open, every 6 to 8 weeks." – Javed Vayid Director JV Entertainment Ltd
 Lux* Grand Gaube (Credit Lux*Grand Gaube)
PURE paves the way for quality events in Mauritius
PURE, which is led by Javed Vayid, is once again leading the way in the sphere of event organisation in Mauritius. The team has previously collaborated with prestigious hotels and resorts in Mauritius. Since 2016, the PURE team has collaborated with prestigious hotels and resorts such as Sofitel Mauritius L'Impérial, Shangri La's Le Touessrok and Heritage C Beach Club to elevate the standard of electronic music events on the island. Following the unpredictable turn of events that came with 2020, PURE took the initiative to show that it can be resilient in the face of unprecedented change. PURE at LUX* Grand Gaube "Mauritius Unwavering" is proof that with every challenge comes new opportunities. Indeed, 100% of the initial 140 rooms available for the event were booked in 4 days! The aim of the festival is to provide a luxurious rooms and services combined with a party atmosphere.
"This festival has now proven to sell out resorts for an entire weekend and we also expect high food and beverage consumption. We sell all experiences available at the hotel including specialised diners, spa services and kids babysitting on our platform pure.bazticket.com" – Javed Vayid Director JV Entertainment Ltd
The organisers are also collaborating with Mythic Suites & Villas, a nearby resort, to accommodate more partygoers for the night.  The organisers are expecting around 700 people a day and  2500 people to attend Mauritius Unwavering over the 3 days and Javed is expecting to sell out all the restaurants and food stations.
 Pure events in Mauritius
#MauritiusUnwavering
The festival celebrates the tropical way of life and Mauritius's undeniable adaptability to a changing world. It is an event that aims to showcase the island's beauty as well as its multifaceted culture. The festival's program includes:
A selection of local artists of various music genres, with a focus on House, Disco, Deep House, Techno, Melodic and Tribal.
Yoga sessions
Spa treatments at the resort's LUX* Me Spa
Magic performances by Béryl Trupin
Temporary Tattoos by Inked Brotherhood
As LUX* Grand Gaube has been privatised for Mauritius Unwavering, this PURE event will make use of the resort's facilities. Specific concepts will be applied to LUX* Grand Gaube's restaurants, lounges and bars. The resort's retro-chic style and eye-catching architecture will lend itself perfectly to the Mauritius Unwavering concept. It is worth noting that access to specific areas of the festival will depend on the attendees' passes. Below are an overview and a detailed guide to the event's program:
Pure Event program- Overview of festival
"We will have 2 surprise DJs in our line-up. We have stepped out of our comfort zone with regards to the line-up: We are staying in our niche of music genres, while incorporating some new elements." – Javed Vayid
LUX* Resorts is adapting to the shifting tides
As you may already know, Mauritius's borders are presently closed. This means that the tourism sector is currently weakened, and that a strategic reorientation is necessary. Mauritius Unwavering is an example of how a local business has positively reacted to this change. A teaser electronic set featuring Mauritian DJ Cream Cracker for the festival was recently live streamed from LUX* Grand Gaube's Turkish lounge, Bodrum Blue. This particular area of the hotel offers a fantastic view on Gunner's Quoin, an islet off the coast of Mauritius, as you can see in the video.
LUX* Resorts is currently at the forefront of merrymaking in Mauritius. On July 18 2020, their resort at Le Morne hosted an afternoon event aptly named "The Sun Goes Down!" The group's responsiveness to the closure of borders in Mauritius is a testament to its adaptability.
 "LUX* Resorts were the first to respond to this new PURE concept… Our common motivation is to show the world that we are adaptable and resilient." – Javed Vayid
A historical Music & Beach festival in Mauritius!
The first weekend of August 2020 will mark a turning point in the future of events in Mauritius. It will be the first time in history that a resort is privatised for a 3-day music festival. From Friday 7th to Sunday 9th, PURE partygoers will revel in one of the most beautiful places in Mauritius, if not the entire world. If you're going to miss this one, the next PURE events are planned for October, November and December.
For more information about PURE Event at Lux* Grand Gaube:
Official Accomocadation in Grand Gaube
Mythic Suites & Villas – Conciergerie & Resort – Île Maurice
– 4 last Junior Suites available on FRIDAY NIGHT ONLY (2 rooms / 4 pax)
– 1 last Villa available for FRIDAY NIGHT + SATURDAY NIGHT ONLY (4 rooms / 8 pax)
Cape Point Seafront Suites & Penthouse
– 1 last seafront apartment available for FRIDAY NIGHT + SATURDAY NIGHT ONLY (3 rooms / 6 pax)
Villas Banyan Mauritius
– 1 last Villa available for FRIDAY NIGHT + SATURDAY NIGHT ONLY (3 rooms / 6 pax)
All these accommodations are officially accredited to work with PURE which means that transfer to and from LUX* + VIP Tickets for each person staying which are included in the package price.
Contact PURE to buy the last available units!
#grandgaubesoldout